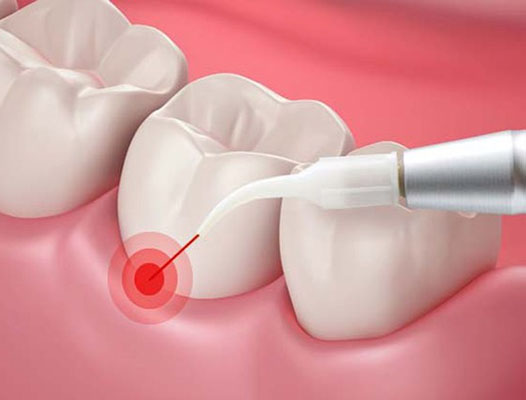 Gum disease is the second most common cause of toothache.
Gum disease, also known as periodontal disease, is a common dental condition characterized by inflammation and infection of the gum tissues. This condition can range from mild gingivitis, which causes redness and swelling of the gums, to more severe periodontitis, where the infection progresses deeper into the supporting structures of the teeth, potentially leading to tooth loss. At Malhan Dental Clinic in Jalandhar, our Gum Disease Treatment approach is comprehensive and patient-centered. It begins with a thorough evaluation of your gum health to assess the extent of the disease and identify any contributing factors. Our personalized treatment plans may include non-surgical procedures such as scaling and root planing (a deep cleaning process) and antibiotic therapy to manage mild to moderate cases. For more advanced gum disease, surgical options like gum flap surgery or bone grafts may be recommended to restore oral health. Throughout the process, patient education plays a pivotal role, as we guide you in maintaining proper oral hygiene practices to prevent future gum disease issues. Our experienced team, along with advanced technology, ensures that your journey to optimal gum health with Gum Disease Treatment in Jalandhar is comfortable and effective.
Every tooth in a man's head is more valuable than a diamond.
Both these procedure are usually performed under local anethesia and may be accompanied by the use of oral antibiotics to overcome gum infection.
— If you notice any of the following signs of gun disease, fiz an appointment immediately.
1) Gum that bleed when you brush your teeth.
2) Red, swollen and tender gums.
3) Gums that have pulled away from the teeth.
4) Bad breath that doesn't go away.
5) Pus beheen your teeth and gums.
6) loose teeth.
What causes gum disease?
Our mouths are full of bacteria. These bacteria, along with mucus and other particles, constantly form a sticky, colorless "plaque" on teeth. Brushing and flossing help get rid of plaque. Plaque that is not removed can harden and form "tartar" that brushing doesn't clean. Only a professional cleaning by a dentist or dental hygienist can remove tartar.
Gingivitis
The longer plaque and tartar are on teeth, the more harmful they become. The bacteria cause inflammation of the gums that is called "gingivitis." In gingivitis, the gums become red, swollen and can bleed easily. Gingivitis is a mild form of gum disease that can usually be reversed with daily brushing and flossing, and regular cleaning by a dentist or dental hygienist. This form of gum disease does not include any loss of bone and tissue that hold teeth in place.
Periodontitis
When gingivitis is not treated, it can advance to "periodontitis" (which means "inflammation around the tooth"). In periodontitis, gums pull away from the teeth and form spaces (called "pockets") that become infected. The body's immune system fights the bacteria as the plaque spreads and grows below the gum line. Bacterial toxins and the body's natural response to infection start to break down the bone and connective tissue that hold teeth in place. If not treated, the bones, gums, and tissue that support the teeth are destroyed. The teeth may eventually become loose and have to be removed.
Risk Factors
1. Smoking
2. Hormonal changes in girls/women
3.Diabetes
4. Other illnesses and their treatments
5. Genetic susceptibility
6. Medications
Who gets gum disease?
People usually don't show signs of gum disease until they are in their 30s or 40s. Men are more likely to have gum disease than women. Although teenagers rarely develop periodontitis, they can develop gingivitis, the milder form of gum disease. Most commonly, gum disease develops when plaque is allowed to build up along and under the gum line.
How do I know if I have gum disease?
1. Bad breath that won't go away
2. Tender or bleeding gums
3. Red or swollen gums
4. Painful chewing
5. Loose teeth
6. Sensitive teeth
7. Receding gums or longer appearing teeth
Any of these symptoms may be a sign of a serious problem, which should be checked by a dentist.
How is gum disease treated?
The main goal of treatment is to control the infection. The number and types of treatment will vary, depending on the extent of the gum disease. Any type of treatment requires that the patient keep up good daily care at home. The doctor may also suggest changing certain behaviors, such as quitting smoking, as a way to improve treatment outcome.
Deep Cleaning (Scaling and Root Planing)
The dentist, periodontist, or dental hygienist removes the plaque through a deep-cleaning method called scaling and root planing. Scaling means scraping off the tartar from above and below the gum line. Root planing gets rid of rough spots on the tooth root where the germs gather, and helps remove bacteria that contribute to the disease. In some cases a laser may be used to remove plaque and tartar. This procedure can result in less bleeding, swelling, and discomfort compared to traditional deep cleaning methods.
Your Smile is Our Priority... We Design Smiles
Good oral health gives you so many wonderful things like dazzling smile, good confidence, better luck in career..........
Book Appointment
Let us know your problem, make an appointment and receive the best advice from specialists in the field.
Or call us now
+91 9876108868
Give us a call to ask for online advice or book a check-up schedule at Malhan Dental Clinic soon.