Smile Designing
As goes the saying- SMILE- it adds value to your face. A beautiful smile can improve your self esteem and confidence
At Malhan Dental Clinic we treat the whole person, not just the tooth. Whether you are looking to redesign your smile, whiten your teeth, improve your oral health, make a subtle cosmetic enhancement or obtain general care, you've come to the right place. With such a wide range of procedures available it can be confusing for the patient. We offer a support time, friendly and nurtwuring enviroment where you are free to express your every concern, hope and expectation.
Cosmetic Dentistry can help you look more beautiful and much younger. Our goal is to create a beautiful smile that you deserve.
Every tooth in a man's head is more valuable than a diamond.
A smile designing or makeover is the process of improving the appearance of smile of a person through cosmetic dentistry procedures. Smile makeover is something that you choose to have performed. Smile makeover consideration many things like facial appearance, hair colour, skin tone, teeth (color, length, shape, tooth display), gum tissue and lips for developing your perfect smile. Smile makeovers are performed for many reasons and its customized according to your unique requirements. Some aspects of your smile that your dentist will review and improved with a smile makeover include the following:
Tooth Texture and Characterization
Your dentist will always work closely with you to develop a treatment plan designed to achieve exactly what you want from your smile makeover, this plan may cover many cosmetic and functionally restorative procedures, potentially including teeth whitening, composite bonding, veneers, dental crowns, orthodontics (braces), oral maxillofacial surgery and gummy smile reduction.
Cosmetic dentistry procedures require regular oral hygiene care and may require maintenance over time. For example, teeth whitening must be repeated on occasion in order to maintain brightness. Gummy smile improvements may also require enhancement over time. Permanent composite bonding may stain and require enhancement or replacement. Dental crowns typically require replacement after 10 to 15 years. So regular visit your dentist to maintain a good oral health
At Malhan Dental Clinic in Jalandhar, we recognize the power of a confident and radiant smile. Our Smile Designing Treatment is crafted to help you achieve the smile you've always dreamed of. We understand that every smile is unique, which is why our experienced dental team takes a personalized approach. Whether you're looking to correct misaligned teeth, whiten your smile, or address other cosmetic concerns, our smile designing experts are here to guide you. Using advanced dental technology and techniques, we create a customized treatment plan tailored to your individual goals and needs. Your journey to a more beautiful and confident smile starts with a consultation at Malhan Dental Clinic. Discover the possibilities of Smile Designing Treatment in Jalandhar and let us help you transform your smile into a work of art.
Smile Designing with Lithium di Silicate Crowns
Smile Designing with PFM Crowns
 Before
After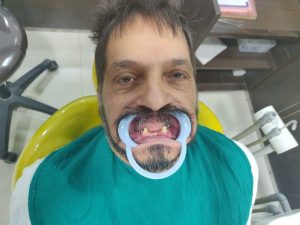 Before
After
Smile Designing with Zirconia Crowns
 Before
After
Before
After
Your Smile is Our Priority... We Design Smiles
Good oral health gives you so many wonderful things like dazzling smile, good confidence, better luck in career..........
Book Appointment
Let us know your problem, make an appointment and receive the best advice from specialists in the field.
Or call us now
+91 9876108868
Give us a call to ask for online advice or book a check-up schedule at Malhan Dental Clinic soon.